Anyone who has had the opportunity to visit the region spanding from the Great Karoo to the Addo Elephant National Park can attest to the distinctive uniqueness of this magnificent land. An enigma of its own, the landscape transforms between rugged mountains, to vast savannah, to thick bushveld and coastal tropics. All this within a 250km range, and with Magic Hills Private Game Reserve right at its heart.
Occupying 20 100 hectares of rugged Eastern Cape wilderness, the Magic Hills Private Game Reserve requires the full-time care of a dedicated ranger team, which is led by conservation expert Declan Hofmeyr, appointed General Manager of the Magical Hills Private Collection and Game Reserve. A seasoned ecologist with over 25 years of experience in conservation across South Africa, Declan shares his passions for rehabilitation and rewilding of natural environments, from blossom to beast.
Discoveries and Diversities on Magic Hills Private Game Reserve
Exploring the reserve since December 2019, Declan has found himself on a path of discovery, saying, "When spending time in an unfamiliar environment, one is always going to "discover" something new like a flowing spring or particularly impressive specimen of tree. But rarely does one get the privilege to be part of a discovery that is entirely novel. It has been so exciting for the current Magic Hills team, who has found rock art sites that have never been documented before. They appear to be the legacy of the Khoenkhoen people who inhabited the area historically."
With a career history predominantly managing protected areas in savannah regions, Declan notes that the unique topography at Magic Hills lends itself to an incredible sense of wide open space with uninterrupted vistas in all directions. Of particular interest is that the reserve falls in the transition zone of two classified biomes, the Nama Karoo biome characterised by shrubs and succulents on very light coloured, shallow, low lying rocky soils, and the Albany Thicket Biome, characterised by hilly country with taller trees, particularly the Spekboom and prehistoric-looking Valley Euphorbias, on darker soils. The variety of fauna and flora, as well as wildlife, found across the Magic Hills landscape is astounding.
The reserve is also the natural growing grounds of a carbon champion, the Spekboom (Portulacaria afra), a species of fleshy-leaved tree that grows abundantly in the Eastern Cape of South African. At present, about 3000 hectares of Magic Hills Private Game Reserve is blanketed by mature Spekboom, which has the capacity to absorb 12.5 million kilograms of carbon as soil carbon per year, releasing oxygen as a by-product. Declan estimates that, once restored to its full natural state, the Spekboom vegetation community could potentially trap nearly 50 million kgs of carbon per year and in doing so, contribute to reducing global warming and the threat of a rise in sea level.
Magic Hills Private Game Reserve is Bringing the Wild Back to the Wilderness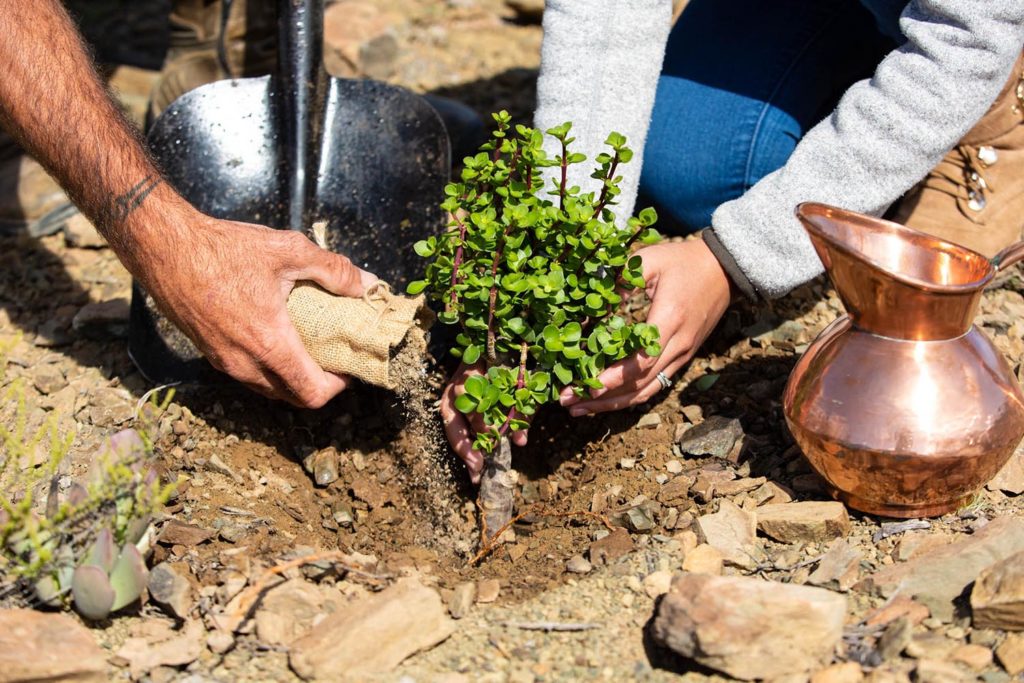 Offering an expanse of such biodiversity and rich resources, the land is also natural habitat to some of Southern Africa's most iconic wild animals. Speaking of the region as it must have been 150 years ago, Declan says, "Larger animals that are typical and near endemic include the charismatic Black Wildebeest, Blesbok and Cape Mountain Zebra. The former two species, along with Springbok and Eland, historically occurred in large herds of up to several hundreds or even thousands of animals and were extremely abundant in the area. Herds of game would have supported significant populations of Lion, Leopard, both Hyena species and African Wild Dogs."
Through rehabilitation and rewilding projects, Declan and the Magic Hills team set out to promote herd development, which is something that many Big Five destinations underestimate the value of, rather attempting to appease the tourist with fewer numbers per species, but a greater variety of species – often including exotic animals.
Declan explains that it's better for the herding animals and the veld – especially in sensitive environments such as the Karoo – to rather rehabilitate larger herds of indigenous species, than a variety of extralimital species that often do damage to the vegetation and the land. Declan elaborates, by saying: "Rather focus on herd biology that protects the young and productive from predation while weeding out the sick and weak."
Those who are fortunate enough to visit the breathtaking Magic Hills Private Game Reserve will find themselves surrounded by a resplendent piece of nature that is being helped to recover – to heal from decades of overuse and abuse – with the vision of its owners, and the expertise and passion of men like Declan Hofmeyr.
About Declan Hofmeyr
Declan's experience in conservation and wildlife rehabilitation goes back to 1993, when he began as a nature conservation student. He has filled numerous roles for Ezemvelo Conservation, Madikwe Game Reserve, Marakele Contractual National Park, the Massingir region, and Molopo Nature Reserve. Declan holds two degrees in Nature Conservation and has contributed to peer-reviewed publications on predator and disease management. He is passionate about the management of wildlife relocations, landscape conservation and confronting the growing threats to charismatic species such as lion, elephant and rhino.