Falling in love with Magic Hills
EXPERIENCES FOR THE SENSES AND MORE
No single day at Magic Hills is the same: from the ever-changing colours of the landscape to the unexpected wildlife encounters and the daily variation in culinary options. Added to this is the variety of activities on offer to fully immerse guests in the Magic Hills experience. While your time at the reserve may be relaxed and unhurried, those who like to explore and discover are catered for too.
"The whole is in the parts and the parts are in the whole"
This idea of holism is the guiding philosophy driving The Magic Hills Private Collection. Our guests are treated to the highest levels of service in the most resplendent of surroundings, but our philosophy is one in which our environment is in the service and the service we provide is in the environment. None can exist without the other. Our guests are part of the magic while their journey aligns with ours, and when our paths diverge a small bit of the magic stays with them, so that they are always part of our whole and we of theirs.
With two game drives scheduled daily – one early morning and one late afternoon – guests have the opportunity to get up close to some of Africa's rarest animals, as well as experience glorious sunrises and sunsets. Crisp morning drives are made cosier with luxe blankets, piping flasks of coffee and fresh rusks too. Sunset drives are brisk and invigorating, drawing to a close with the dipping of the sun and a bush-side sundowner stop, where your tipple of choice and a selection of snacks will help you unwind and take in the hushed beauty of the land.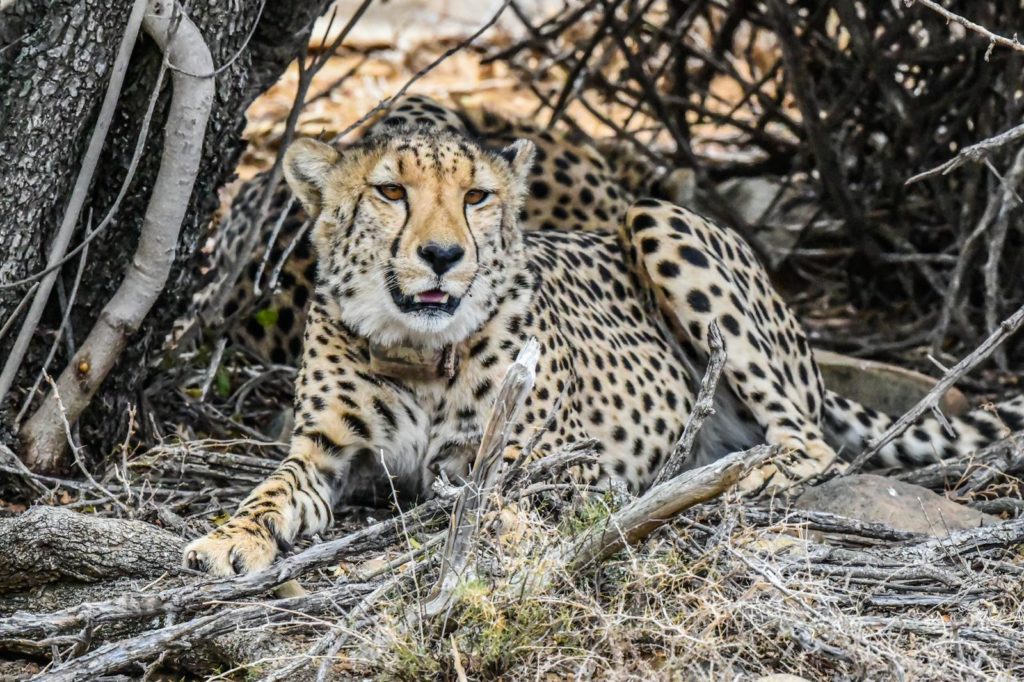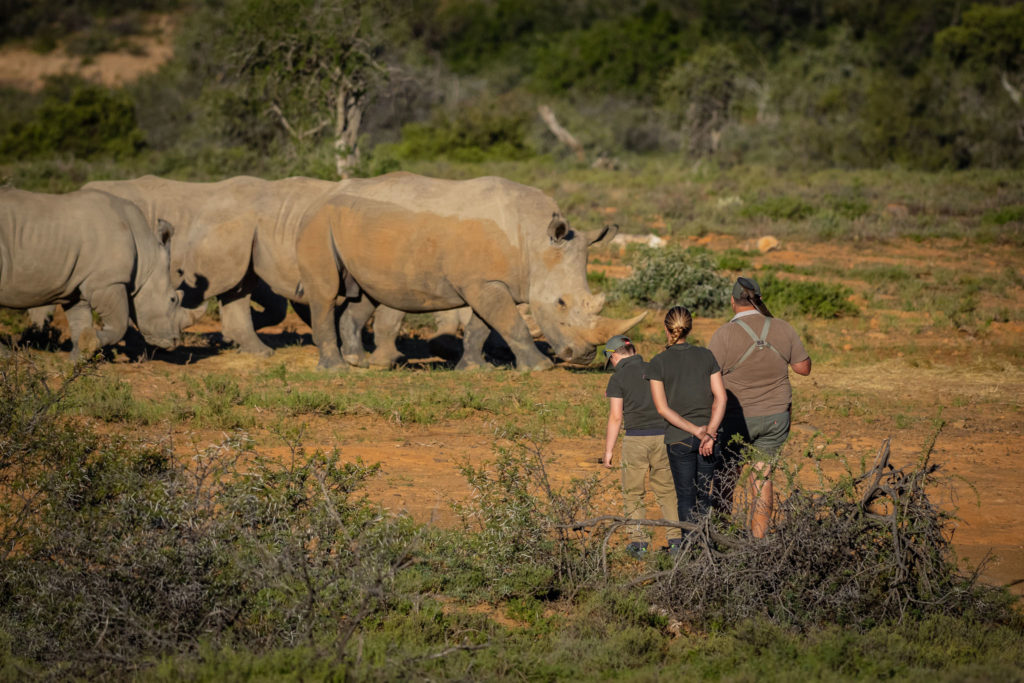 Allow our experienced guides to take you on an unforgettable journey through the great outdoors on foot. It's often the things that may seem insignificant that have the most spellbinding story – from tracking prints that lead to unchartered territory, to extraordinary trees with incredible medicinal properties and tiny insects that make a big impact. Learn the intricate details about the land and its history and enjoy the scent-laden air brushing your face as you ramble through nature.
Dubbed as 'Dark-Sky Country', the Great Karoo is known for its dazzling night-time skies. Thanks to mostly cloudless nights and no intrusion of city lights, this location offers some of the best starry nights in the country. This is why Sky Lodge will soon introduce its own astronomy hollow. Sky Lab will be a sanctuary that will offer protection from the elements and comfortably ensconce guests within, allowing them to lie back and marvel at the wonder of the night sky.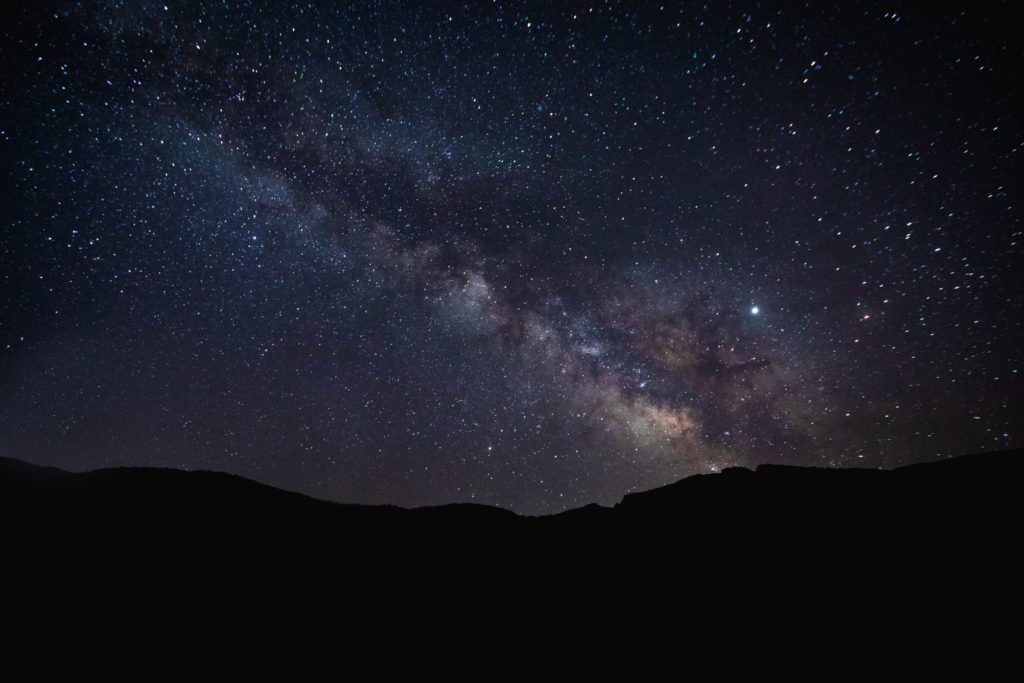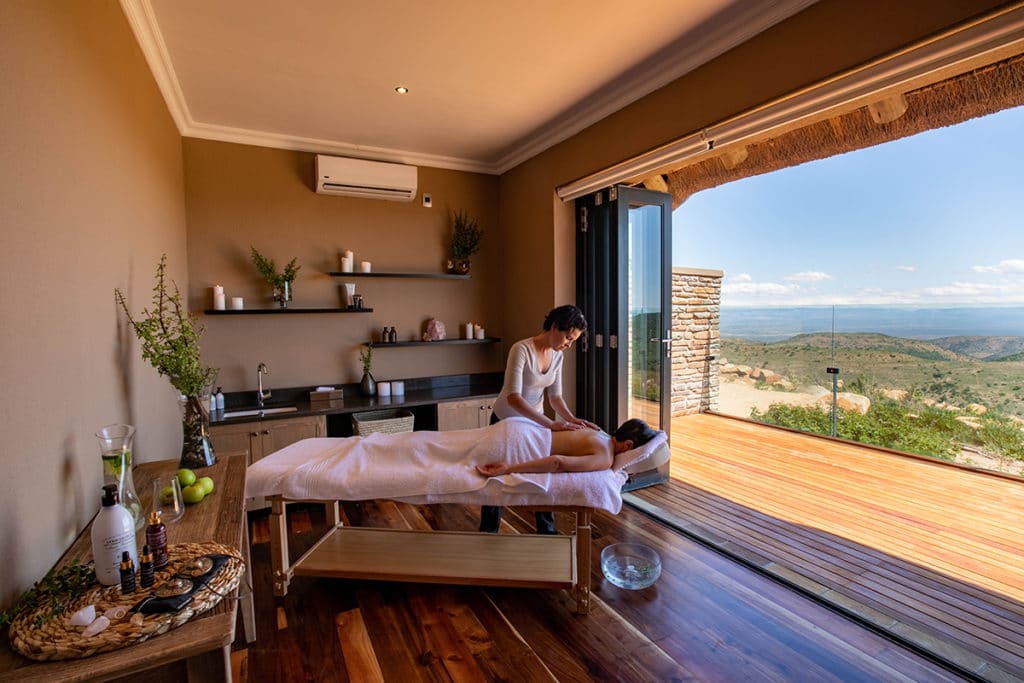 The Sky Spa offers indulgent massages and a reinvigorating selection of pampering treatments, while the jacuzzi is open 24/7, enjoying uninterrupted views over the savannah. Additional holistic treatments and wellness packages can be specifically created for guests, using the landscape and its medicinal plants as inspiration to relax, rejuvenate and heal from the demands of modern, urban life.
THERE'S MORE MAGIC TO EXPLORE
It comes as no surprise that the central activity of every African safari adventure has to be the safari drives and walks. On a normal day your guide will meet you at sunrise every morning with warm drinks and rusks at your lodge before departing on your morning game drive or walk. Your safari will last for about three hours before you are escorted back to your lodge for a midday rest and relaxation. In the evening you'll depart again with your guide to be out in the African wilderness just in time to bid farewell to another perfect day. Your safari experience is completely customisable to your needs with private vehicles and a personal, dedicated guide available on request.
Our guides are passionately invested in their work, with each one believing in the Magic Hills philosophy and goals. However you choose to safari at Magic Hills you will always receive so much more than just a 'game drive'.
Walk the Walk to Talk the Talk
Traversing a big game area on foot provides an deeply immersive safari experience, and our expert walking guides will introduce you to some of the smaller things that you may miss from the back of a game viewing vehicle. On a game walk you'll have an opportunity to learn about spoor and dung – yes, animal poop! – as well as insects, trees and the medicinal uses of our native plants. At Magic Hills we respect that not everyone is comfortable with the risk that comes with the possibility of coming face-to-face with dangerous game on foot, and so we've allocated an area of 1500 hectares in which there are no large or dangerous animals, but you'll still encounter all the other species, as well as breathtaking vistas and wide sandy rivers.
THE TRAIL OF THE CHUBBY UNICORN
Allow our experienced, qualified guides to lead you in the footsteps of the powerful rhino. This experience can take place on request, or on the spur of the moment, depending on where our rhinos are moving during the day. You and your guide will start at a water point where animals have drunk recently, and look for fresh rhino spoor. Once you find spoor, you'll set off on "The Trail of the Chubby Unicorn", a journey of learning about these animals, their ecology and biology, as well the threats they face as a result of poaching, misunderstanding and greed. Led by your guide, you will follow spoors and tracks together until you happen upon a sighting of the majestic rhino. After spending some time at your own special rhino sighting, your guide will lead you back to your vehicle or lodging.
*For the sake of safety, we only track white rhino on foot with guests*
Join us under the pitch-dark blanket that shrouds the Karoo's night skies. Your guide will lead you on an odyssey of the skies using our state-of-the-art telescope and purpose-built observatory. The ink-black skies over Magic Hills are ideal for launching your journey into our solar system, and even further. All this, while enjoying the comfort of a snug blanket around your shoulders and a hot Irish Coffee in your mug, made the same way it was first concocted in 1943 – with Irish Whiskey, pouring cream and a hint of adventure.
It's a little-known fact that the cheetah is an endangered species and that there are fewer cheetahs left on earth than rhinos. Magic Hills has aligned with the National Cheetah Meta-Population Strategy under the Endangered Wildlife Trust to actively promote cheetah conservation awareness. Our cheetahs are monitored as frequently as possible and on this adventure you'll join one of our conservation officers to learn how we use radio telemetry receivers to track the cheetahs at Magic Hills. Once a signal is found for one of the cheetah radio collars, you'll be escorted either by game vehicle or on foot to find the collared cat. Here, take your time to enjoy being in such close proximity with the bespeckled cheetah in their natural environment. For the purposes of monitoring our cheetahs and helping their numbers to grow, these cats have become accustomed to people.  Your sighting will be relaxed, as the cheetahs are likely to ignore you or, if you're lucky, may approach – just a little –  out of mild curiosity.
Once thought to be a prophylactic for the prevention and treatment of malaria, gin has come a long way from the simple London dry gins of a few years back. Infused with botanicals and fruits, drunk neat, over ice or in a cocktail, modern gin tastings at Magic Hills make for as interesting a summer night as any wine tasting activity or cocktail evening. Gin and Coke anyone? Or how about a Sloe Gin Fizz featuring egg whites as an ingredient? Join us on our Juniper Journey to explore gin flavours you never knew existed before.
For those who prefer the tradition of drinking wine, then a mainstay of any decent safari has to be an evening spent with our resident wine lover.  A wine-tasting paired with scrumptious dinner at Magic Hills will allow you to sample the Cape's finest, going from aroma to vegetal through the world of wine. Remember to let us know if there are any wines you'd like us to have ready and waiting for your stay with us.
One of the very nicest things about life
…is the way we must regularly stop whatever it is we are doing and devote our attention to eating. Those words from legendary operatic tenor Luciano Pavarotti certainly ring true through the Magic Hills food philosophy. Our Executive Chef will guide you through a fresh flavour adventure while also stirring up happy remembrances with familiar dishes that make up your food memories. Specialities include game meat dishes, sourced locally and enhanced with foraged spices typical of the Magic Hills floral diversity – ranging from the citrus of the Spekboom and spicy wild mint, to the aromatic perfection of blue sage.
Located on a bend in the Lootskloof River under the watchful cliffs of Dassiekraans, we will host you for a mouthwatering meal cooked on the open fire of our bush braai – for breakfast, lunch or dinner. In the skilled hands of our Executive Chef, a braai fire can be used just as effectively as any oven or stove to produce every kind of meal, from succulent steaks and sea-fresh seafood, to rich, hearty soups. Take a dip into the invigorating, cool mountain waters of the Lootskloof River, or simply stay refreshed with an icy beverage while the chef prepares you a feast over smoke and flame.
Restoration and Rejuvenation
Whether at Sky, Ilanga, Elsa or kaKhulu Karoo we welcome you to take advantage of our resident spa therapists. Select from our wide selection of traditional and modern holistic massage experiences or engage in a couple's treatment tailor-made to your needs. Leave Magic Hills feeling restored, relaxed and fully grounded, by recharging for your body and mind while in the very heart of Mother Nature's healing care.
Bows With Breakfast and Clays Over Lunch
Challenge your strength and exercise your hand-eye coordination with our exciting "Bows with Breakfast" or "Clays over Lunch". Whichever you choose, you will head out with your guide to a safe and remote area of the reserve where our expert marksman instructors will meet you for a safety briefing before engaging in some target archery or clay pigeon shooting. Snacks and refreshing drinks will be available for your indulgence, while a full breakfast or lunch is being prepared for your enjoyment once your "Bang Woosh" experience is complete.
The Difference You Made Today – THE SPEKBOOM PLANT FOR GUESTS
Visit Magic Hills Private Collection and literally help save the planet.
For every guest who visits us, at least two indigenous trees are planted as part of our thicket restoration program. One of the trees will be of the miraculous Spekboom species while, depending on where the trees are planted in our restoration landscape, the other may also be a Spekboom or perhaps a Spike Thorn tree or even an indigenous succulent such as the Paper-Rose Cactus. Whichever it is you can rest easy knowing that you have made a difference, just by being at Magic Hills Private Collection.
First Nation Gallery Visit
We at Magic Hills are very excited about the discovery of previously unknown rock art sites on the reserve. An investigation is currently under way into the historical significance of the sites while respecting the rights of the national cultural estate and the Khoenkhoen people. Sadly, the San and Khoi cultures are slowly eroding, being lost to both the instant gratification that modern technology brings, and the boredom of extreme rural living. To help in ensuring the long-term sustainability of this ancient culture, we are in the process of developing an alignment with the Ju/'hoansi Master Trackers of the Nyae Nyae community to provide a guest experience like no other.
Depart from the lodge for your morning game drive or walk, and be met by a Ju/'hoansi Master Tracker who will take you on a spiritual journey of interpretation. The original trackers of Africa will help you see the wilderness through the interpretation of tracks and signs left by the animals and birds of Magic Hills. Why did that jackal stop right there? How did that springbuck know she was being followed by that cheetah? Your journey will culminate at our rock art site for a guided tour of the paintings, presented by none other than descendants of the hand that put them there eons before.
MAGIC HILLS PIONEERS - EXCLUSIVE
This experience will be limited to the first 16 full-paying parties only! In the spirit of Erik and Alexandra's (the owners) pioneering spirit we are offering the opportunity for the first 16 full paying parties to leave a special mark on a secluded place somewhere in Magic Hills. You will travel with your guide to a secret place on the Magic Hills Private Game Reserve where a small plaque with your name and date of visit will be placed as a token of gratitude for your support of our dream. This secret place will remain off-limits to future guests and only the pioneers or their delegates will be allowed to visit their personal plaques on return visits.
Why 16, you ask? The number 16 is of great significance for us at Magic Hills. It marks the date that the final farm was officially bought, and subsequently also the date of Erik and Alexandra's wedding anniversary. The number 16 has become a symbol of love, union and adventure in the Magic Hills family.
Magic is not something restricted to the old or the young, and so in recognizing that our younger safari adventurers visiting us at Magic Hills are just as important as Mom and Dad, we have developed special programs to keep Cubs and Pups under the age of 12 years entertained.
When I Grow Up I Wanna Be A Ranger
Tailored educational drives and walks can be arranged for the Cubs while the "big cats" are indulging in some well-deserved down-time at the lodge. Guided on a tour in our safe-game area, and with the supervision of a trained child minder as well as one of our professional guides, these drives and walks are designed to inspire easily distracted minds and fidgety little hands while ensuring maximum safety and fun.
All The Flavours of The Rainbow
Our junior and trainee chefs need their practice, and what better way than by introducing our younger lodge guests to the many joys of cooking. From clever sandwiches and sliders to fun-sized cakes of every colour, washed down with a delicious, healthy Spekboom smoothie. Who knows what delights might come out of a kitchen inspired by the unfenced imagination of a child's mind.
The Magic Hills story is one of revival, and of second chances. Like so many of the small villages scattered across rural South Africa, the small town of Jansenville near Magic Hills is plagued by social ills including poverty, alcoholism, hunger and contact crime. At Magic Hills we believe that no one's story is over until they decide it is. To that end we are in the process of aligning ourselves with the renowned NGO "Pack for a Purpose" to help supply the schools in our area with basic educational materials, as well as supplies to initiate and maintain higher-need projects focused around social education. We believe that this will help the next generation of learners to break the cycle of tragedy in which they find themselves. If you would like to donate, a list of required items can be requested prior to travel.
What do you need to know?
Have Your Questions Answered
Want to plan your trip to the picturesque landscape of Magic Hills but have some questions? If you are wondering about what to pack, climate and more, please feel free to visit our frequently asked questions for more information.