One would never dream that there could be so many things to do in the karoo wilderness, as there are on the expansive Magic Hills Private Game Reserve. The luxury and family portfolio of hospitality options offers guests access to a whole new world of adventure, surrounded by the age-old, rugged mountains and savannah of the reserve. From games drives and 4×4 trails to sumptuous dining, spa treatments and poolside leisure, and the enthralling excursions to find cheetah, rhino and ancient rock art, Magic Hills Private Collection caters for travellers of every kind.
One such activity that we are proud to announce is "coming soon", is a mountaineering excursion for adventurers in search of a more unconventional safari experience. We brought in one of South Africa's top mountaineering experts, Justin Lawson of Climb ZA to assess the opportunities on the Magic Hills Private Game Reserve.
Add an Eastern Cape Zipline to Your Bucket List
When Justin arrived at Magic Hills, he was delighted to find what he termed "beautiful rock faces". Sturdy, solid rock cliffs at perfectly upright angles provide the opportunity to implement climbing ventures on Magic Hills Private Game Reserve. Even better, Justin was able to identify the ideal location on the reserve for a heart-pumping ziplining experience, between two cliff faces that lie at almost a right angle to one another.
To make the excursion more accessible to people of all ages and fitness levels, Justin recommends the installation of via ferrata courses that lead up the rock faces. Via Ferrata is Italian, which translates to "iron path". A fairly new concept to South Africa, iron rungs are firmly affixed to the rock face, essentially providing a ladder for hikers to climb. Noting that the ladder does not require climbers to have any mountaineering experience, Justin states, "Anyone who can climb a ladder can join in on this excursion."
The proposed course at Magic Hills Private Game Reserve will consist of two Via Ferrata climbs and two ziplines across a valley gorge. The first zipline will be an estimated 120 meters, while the second zipline could reach as far as 200 meters. The hiking trail that would be taken between the highlight points would be mild, and would also lead hikers past ancient artefacts and rock paintings. The excursion would begin with an exciting 40-minutes 4×4 safari through the reserve, and end with a refreshing drinks stop overlooking the valleys below.
Gliding Over a Wilderness Game Reserve
When asked about his experience at Magic Hills, and what he foresees for the mountaineering adventure on the reserve, Justin says, "It's a vertical world in a totally different environment. I'm used to climbing in regions like Table Mountain, Cedarberg Mountains. Without thinking, I hopped out of the game vehicle to open a fence gate between camps, and our guide, Warren, laughed nervously and asked me to first check for wild animals next time I hop out – especially lions. It occurred to me then that I couldn't think of another zipline or via ferrata in such a wild location."
Indeed, once installed, the Magic Hills zipline could be the only zipline that essentially takes the person over land inhabited by lion prides, and other wildlife.
For those with concerns over safety when looking for exciting things to do in the karoo, Justin provides assurance that systems like Via Ferrata and ziplines are installed by professionals, and adhere to strict safety codes in line with international standards. Once installed they are assessed by two separate parties and certified by a governing body. What's more, only a trained and certified guide may operate the ziplines, and all stages of the course require hikers to wear harnesses and safety gear.
We are so excited to add climbing and ziplining to the many things to do in the Karoo, offering Eastern Cape explorers the opportunity to see the reserve from a totally different perspective
About Justin Lawson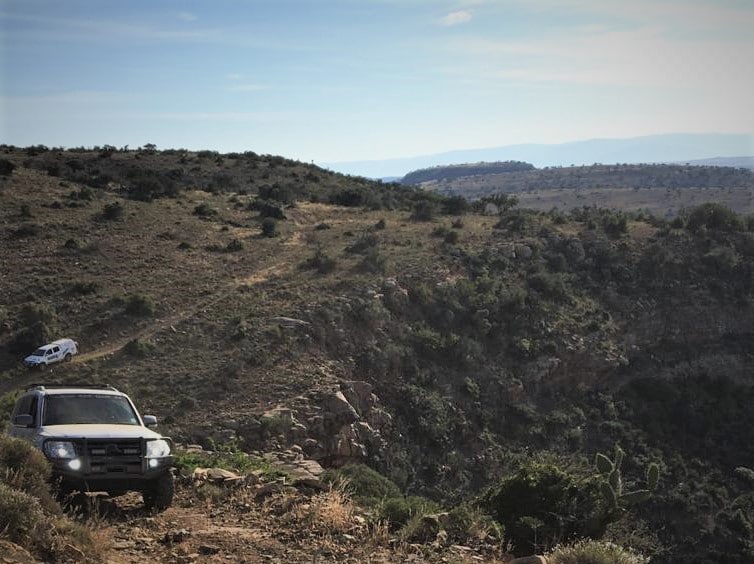 Justin Lawson has been rock climbing since he was 11 years old, having acquired the passion at a young age. He is now an instructor and climbing guide, and a registered national adventure guide at Western Cape Tourism. He typically leads hiking and rockclimbing outings on Table Mountain and wilderness areas such as the Cedarberg. Justin conducts rescue training and trains guides on Mount Kenya, having summited the peak of the 5199m mountain himself. His work also includes setting new routes in his local area, Montagu, and other Western Cape hiking destinations.